Graceful Grey Master Bath
My all time favorite, Bungalows! And this one is no exception. On a side-note, I must add that I have found that the homeowners who live in these bungalows are quite special as well. Just like their homes, they like simple lines, natural light, quality craftsmanship and cozy decor. The homeowner's here just knew that it was time. Their poor outdated, DIY bathroom was restored by the previous homeowner back in the 80's. Mirrored closet walls, low ceilings, a closed in shower with no light and home depot vanity and tile basically made up the original bath. But oh, look at the change now. This bathroom and adjoining bedroom now have a new leaf on life. Fresh grey tones and crisp white trim adorn the walls. Modern mirrors and shiny substrates such as the shower tile, flooring marble and vanity countertop allow for natural reflections. But the "pièce de résistance" is the custom wainscoting that we created onsite that gently cradles the dual mirrors and allows the homeowner to display artwork on the ledge at a future date. Hope you can find some inspiration here as well.
Shabby Chic Kitchen Remodel
This 1922 bungalow kitchen did well for many years as-is but was simply destined for bigger and brighter things. The homeowner's wanted to open up the adjacent eat in kitchen nook to make one large kitchen. During renovation, they also decided to capture the historic nostalgia by keeping some of the exposed brick and lath open for all to see and used as the final finishes. All original windows remained and were simply re-caulked, sanded, reglazed and painted. Outdoor tiles were used indoors and many items (such as doors and lights) were re-used in creative ways. This Shabby Chic kitchen most definitely is custom built and has a style all of it's own. Perfect for future friend gatherings and lots of breakfast coffees. So peak around at the final photos. But look real closely to this one. You will then start to notice the little nuances that make it so special. The beauty of this kitchen shines with the small attention to detail around every nook and cranny.
Fruitcove Kitchen Transformation
This kitchen has helped to raise a family of 5 over the past 30 years and the homeowner's just new that it was time for a facelift. They just simply did not know where to start. After meeting with CenterBeam and our kitchen designer's, a plan was formed to remove one center wall separating the kitchen from the living room and to open up the dining room space by replacing the doorway with a wide 7' opening from floor to ceiling. What happened after it was all done, was just magical. Not the husband and wife duo open their home to church gatherings, family celebrations and simply love to walk through their front door with a smile on their face! Look below to see the changes. We hope you enjoy.
Bathrooms
The most used room in the house should be the happiest to enter. It's a no brainer why this is our #1 remodeling project requested. An expertly designed bathroom is sure to provide years of pleasure. Conversely, hire an amateur and be reminded daily. Bathrooms have lots of moving parts within a small footprint, but with the right guidance and choices, each one can create a homeowner's oasis.
Kitchens
Kitchens are our favorite and for good reason too. They're the simplest and easiest way to increase the value of your home and enjoy the return on your investment while still living there. The design should reflect how you live and what you include will depend on what is most important to you. Ultimately, it should reflect your style.
Additions
Bloom where you are planted…just make the old new again. And what better way to do that, then by simply transforming what you have. Or by redesigning and adding on, to create the dream home you've always envisioned. We can help you with that.
Shabby Chic Bungalow Addition
It's wonderful when homeowner's have a plan and this homeowner knew exactly what she wanted. The idea was to seamlessly incorporate a 3rd bedroom, hallway, master bath and laundry room to the already existing 2 bathroom 1920's bungalow in historic Avondale in Jacksonville, Florida. Conventional framing in the addition allowed for a small vaulted ceiling in the bedroom. Large 13″ baseboards were continued throughout, windows with exterior muntins to match the ones in the original portion of the house were installed as well as 1/2 wall wainscoting and cased openings that help to tie the old with the new.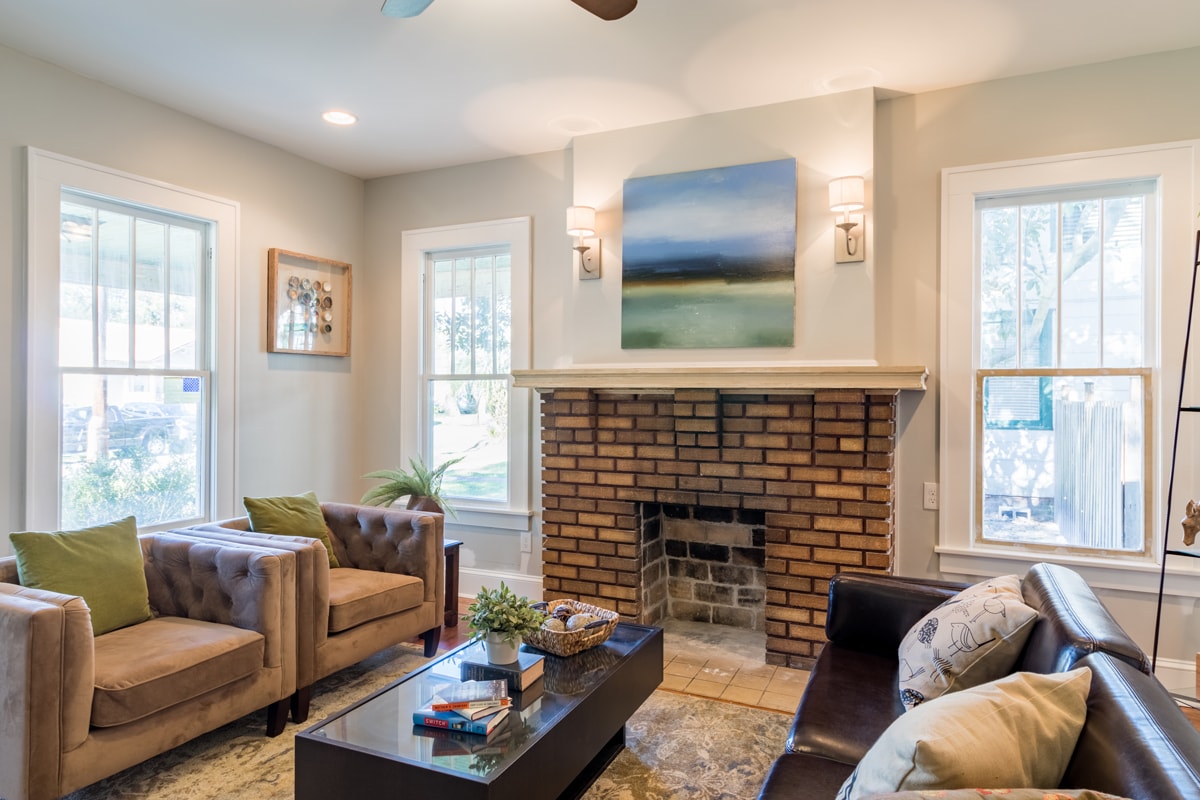 Oak Street 1923 Complete Bungalow Remodel
This 1925 refurbished bungalow was sorely due for some TLC and a little facelift. It took officially 6 months from start to finish, but wow, what a transformation! It was originally a 2 bedroom, 1 bathroom home and had been passed down from the original owners to the children who were in their 90's before the rehab began. This wonderful home now is green throughout…with insulation in the walls, ceilings and flooring, smart thermostats, newly weighted windows, refurbished original hardwood flooring throughout, energy efficient appliances and an instant hot water heater.
Jolly Road Contemporary Bathroom in History Home
Throw traditional right out the door and welcome in contemporary with a great big hug. This bathroom has it all. Frosted glass front linen closet doors, petit knobs, and clean line fixtures set the stage. But the real hero are the chosen wall colors, lighting and specialty tile installed. This hall bathroom seamlessly flows with the art flooded hallway leading up to it's entrance. And offers a pop of elegance as soon as you enter.
Belvedere Modern Kitchen Remodel
Let's see here, what is the best way to explain this one? Modern Kitchen meets Traditional Tudor home. By opening the kitchen wall, we simply added conversational space. A wonderful mix of old and new including special attention to flooring transitions, soffits, lighting, window trim tile and cabinetry selection. Friends are sure to stay for a while now…
Riverside Eclectic Kitchen
From old to new, this kitchen was created with a full functioning family in mind. This complete remodel totally opened up the existing 1923 portion of the bungalow to the new 650 square foot addition portion which leads to a comfy den, master bedroom, master bath and screened porch. Kitchen includes durable concrete tiles, quartz countertops, a spacious island and off color green cabinets with deep drawers everywhere, a custom walk in pantry, task lighting galore and a fun vibe overall. If you like this kitchen, just think…What kind of kitchen do you want?
Historic Condo Renovation
Now this was a labor of love. A personal project purchased and refurbished for the sole purpose of bringing it back to life. This duplex was truly on the brink of demolition prior to the remodel. Everything had to be either moved, replaced or refurbished. Nothing remained untouched and there are too many to detail. Take a look at the photos and see how much something can change for the good when you just add a bit of love and effort.
Relaxing Master Bathroom Addition
So this project started in a not so typical way. The homeowner had hired a contractor and then had to fire him after 6 months passed by with minimal work to show for it. Then Centerbeam came in on a white horse in a white cape (well, not really, but you know where this is going). The complete addition was about 200 square feet of heated and cooled area and the other 200 as an open porch area. Marble, white subway and glass tiles were used throughout to create a more relaxed beachy feel. And the all-glass shower surround is just a jaw dropper. The reuse of an original old glass door (just restored and painted) as a barn door on a track continues the brushed nickel look all the way to the exit door. A great touch to tie the room together
Condo Association Cedar Siding Replacement
CenterBeam also handles larger commercial projects as well. From exterior repair to interior build outs to remodels.  This community has over 40 buildings and each one is in dire need of cedar repair and/or replacement.  After the roofs are replaced, it is then our job to move in for the exterior repairs. Adding flashing where none is found around the sliding doors and installing a vapor barrier when needed.
Airbnb Design Service
This project was less dusty and entailed no construction. The only thing we were hired to do was design consultation.  The Homeowner was in the perfect small town area and decided to transform this dated studio garage to an all desired short term Airbnb rental. Full of everything a guest would need plus more! Two weeks later, the first guest arrived and it's been full ever since!
Detached Garage Transformation (Airbnb Anyone?)
Know anyone with a detached garage that could use an extra $2000 per month? Well, this detached 1920's garage is doing just that as an Airbnb. 45 days later, the first guest arrived with glowing reviews. The homeowners can now enjoy their guests while not having to clean up all of the time. The complete renovation including staining of the existing concrete floors, new framing and additional support wall framing, lots of insulation, paint, electric, plumbing, walls and cabinetry.
Ortega Open Floorplan Kitchen
Wow! What a transformation. This kitchen is now able to host large groups of friends and families, social gatherings and holidays. The glossy countertops just exude richness with special attention being given to the lighting. Notice the real hard wood flooring and furniture helps to keep a coziness throughout the room. This is especially important since it's adjacent to the den…where everyone spends their time.  Click on the photos to see more and hopefully take away some ideas for your kitchen.
Bayard Place Gut and Remodel
This two story 1909 historic home boasting approximately 3000 square feet of livable space was in absolute chaos. It was overwhelming at first, but bit by bit, a plan was formed and we were able to reach the core of it's natural beauty. With the higher ceilings, we were able to add beautiful door transoms which created a lot of natural additional hallway light. We stuck to the original design features of the house by building 9" baseboards, installing all new 5 panel doors (1 original door had been left on premise) refurbishing the original hard wood floors and custom routing and weaving in new flooring boards where needed. Many windows had new weights installed and 90% have all original wavy glass. Insulation and new A/C's, ducting and gas appliances were installed for the modern convenience of a refurbished home but lots of love and care went in to salvaging the historical integrity of this beautiful home bound to withstand another 100 years. We hope you enjoy it as much as we do.
Hollywood Ave: Bungalow Remodel w/ Master & Screen Porch Addition
This lovely 1925 cedar shingled bungalow was simply in need of more space. This lovely family of three have lived in this home, as-is, for 10+ years and knew that it was time for a makeover. Not only that, but they were wanting to add many of the modern conveniences and styles that this bungalow was just lacking. The addition calls for one of the three bedrooms to be turned into a beautiful master bathroom and larger laundry space. We will also be opening up the dining room to the kitchen by removing a wall and adding all new cabinetry, an island and breakfast peninsula. But the sweet spot is in the addition as the homeowners of this bungalow wanted to open the home up to their beautiful back ground by adding a fully screened porch. Both the kitchen and the master bedroom have custom slider doors that open to this relaxing porch…perfect for reading and enjoying the first cup of morning coffee.
Avondale Avenue Interior Renovation
The homeowners of this 1929 all brick bungalow have lots of space but need the existing space to work better for their modern family of three humans, two dogs and a 1 kitty. In this renovation, we will be removing the wall that separates the butler pantry from the 80's renovated kitchen to allow for a spacious and more welcoming cooking experience. The master bath and 1 small master closet is also an issue that needs to be addressed. Currently they both are way too small for a shared scenario. Revision plans now call for a walk in closet for his and her clothes and a 5' larger bathroom footprint which will house a new double vanity and a walk in shower and lots of specialty lights. Lastly, the original maids bathroom (with toilet only) will be turned into a custom shelved pantry and an extra closet off the laundry room will be made into a 1/2 bath…complete with a barn door, wooden flooring and a brick wall which was recently found during demo by the electricians.
Ready to start your next project? We can help!